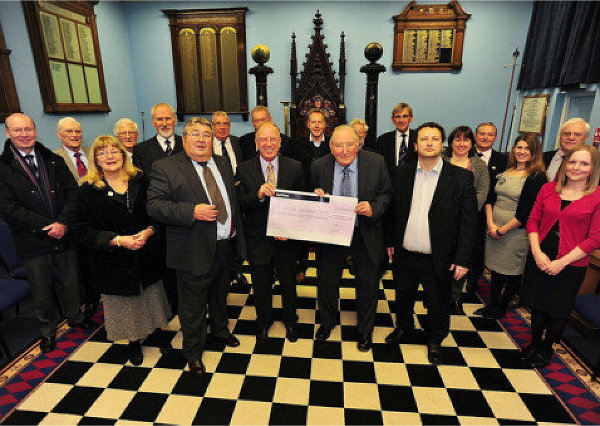 Freemasonry Lodges in Peterborough, with assistance from the Provincial Grand Charity, have raised the magnificent sum of £27,500. This has helped cut cancer treatment waiting times in Peterborough and district.
PCTA had recently appealed for funds for a new computer-aided technique which improves the accuracy of radiotherapy treatment. This significant help has enabled them to complete their fundraising and have the equipment commissioned much earlier than would have otherwise been the case.
In a ceremony at the Peterborough Masonic Centre in December 2013 the Deputy Provincial Grand Master, VW Bro Dr Vivian Thomas, presented the cheque to Keith Fisher, the former Chairman of the PCTA.
Trust Secretary, Ron Douglas said:
'We launched the appeal with a target of £100,000. This tremendous donation represents over a quarter of the appeal and has quickly taken us over our target. Without it we would have taken much longer. This donation by local masons means we can immediately buy the equipment which will now be operational by January 2014. Without it patients of Peterborough and district might have had to travel as far afield as Liverpool for this specialist treatment. We – and I'm sure they – are very grateful.'