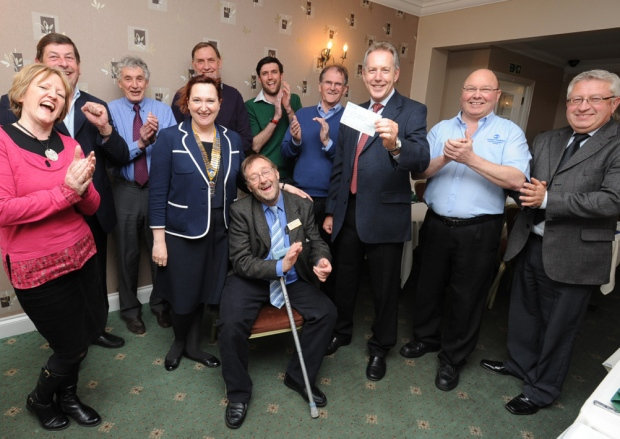 The Peterborough Telegraph's 2013 Target Cancer Appeal organised by the PCTA has hit its target thanks to the generosity of organisations across the area and our fantastic readers.
The appeal, organised by the long-running Peterborough Cancer Treatment Appeal (PCTA) and supported by the Peterborough Telegraph, started just 14 months ago. It aimed to raise money towards specialist laser targeting equipment for the oncology department at Peterborough City Hospital. A final donation from Peterborough and District Freemasons took the tally to £100,000 for the Linac Gating machine.
During cancer treatment radiotherapy can be employed, using very high energy x-rays to kill cancerous cells within the body. The x-ray beams are produced by machines called Linear Accelerators (Linacs) which produce a very highly focused x-ray beam which is directed at the tumour to destroy it, while shielding as much of the patient's healthy tissues as possible.
This is particularly difficult for tumours that are in parts of the body which move due to breathing such as breast and lung cancers, as the respiratory motion causes the tumour to move in and out of the beam during treatment. But the new gating equipment will allow the machine to synchronise the delivery of the x-ray beam with the patient's breathing so that it is only switched on when the cancer is in the beam, and off when it is irradiating healthy tissue.
This means medical staff can be sure of giving the correct dose to the tumour and minimise side-effects in patients. The culmination of the successful campaign is yet another triumph for The PCTA, incorporating The Grateful Ladies.
The registered charity has raised £2.4 million since it was established in 1981 by the late Mr Dennis Bracey, medical mirector of Peterborough Hospitals, and Dr Clement Brown, visiting oncologist from Addenbrookes.
That money has gone to the Peterborough and Stamford Hospitals NHS Foundation Trust for equipment to be used in the treatment and diagnosis of cancer, which the trust would be unable to afford from other resources.
Dr Peter Reading, interim chief executive at the trust said: "We are so grateful to the PCTA for setting up the appeal and to the people of Peterborough who have supported it so passionately.
"The PCTA have been supporters of the trust for over 20 years and have played a huge part in ensuring that our patients can receive state of the art treatment here in the city rather than having to travel further afield to Cambridge or Leicester."
Andrew Poynter, head of radiotherapy said: "This new equipment synchronises the delivery of the x-ray beam with the patient's breathing and means that we can be sure of giving the correct dose to the tumour and minimise the irradiating of healthy tissue.
"The new gating equipment will make a real difference to those patients who are undergoing treatment for chest tumours."